Check for PG&E power outages in your area.
Powered & Prepared
Free emergency planning and resources
for people with disabilities in Marin.
A Helpful Partner for an Unpredictable World
Powered & Prepared is a dedicated program from Marin Center for Independent Living to ensure the readiness and safety of older adults and people with disabilities in the event of emergencies. Supporting a coalition of community service providers and dedicated to equity and inclusion, we work to empower Marin's Access and Functional Needs (AFN) community when the need is greatest.
Sign Up for Resources & Services
60% of people with disabilities are not fully prepared for an emergency
53% rely on medical equipment that requires electricity
25% need access to reliable transportation in the event of a disaster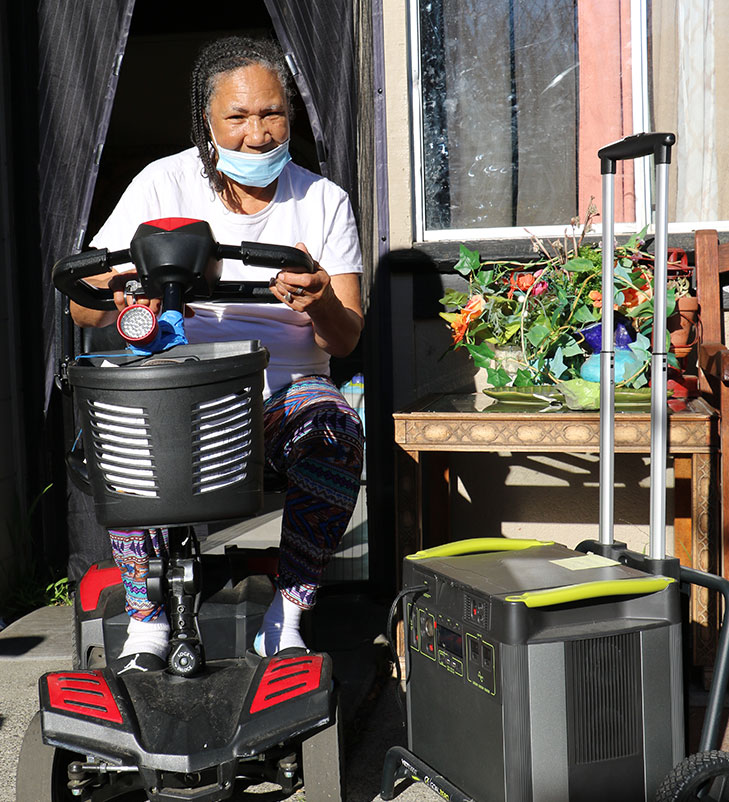 Ready for Emergency Season
The access and mobility needs faced by many in our community take on extra urgency when an emergency arises. For Northern Californians, that can mean a fast-moving wildfire or a scheduled PG&E Public Safety Power Shutoff (PSPS). Through outreach we educate and connect people regardless of physical abilities or income levels, providing strategic readiness planning and resources — from emergency housing and transportation, to portable batteries and preparedness kits.
Sign Up for Resources
Emergency Planning Best Practices A proven framework specially designed for Marin's AFN community, including Personal Preparedness Plans tailored to individual needs.
PG&E Medical Baseline Program Promoting awareness and enrollment in PG&E's program for people who depend on power for medical and independent living needs.
Disaster Kits and Backup Batteries Supplying personal preparedness items to eligible parties, including portable backup batteries.
Community Connection Contact information and access to Powered & Prepared, along with partner organizations providing additional preparedness resources.
Act Now!
Whether you're an individual living with access and functional needs, a caregiver or family member, or a Marin community service provider, getting Powered & Prepared can make lifesaving difference.
Sign Up Now
Partner With Us